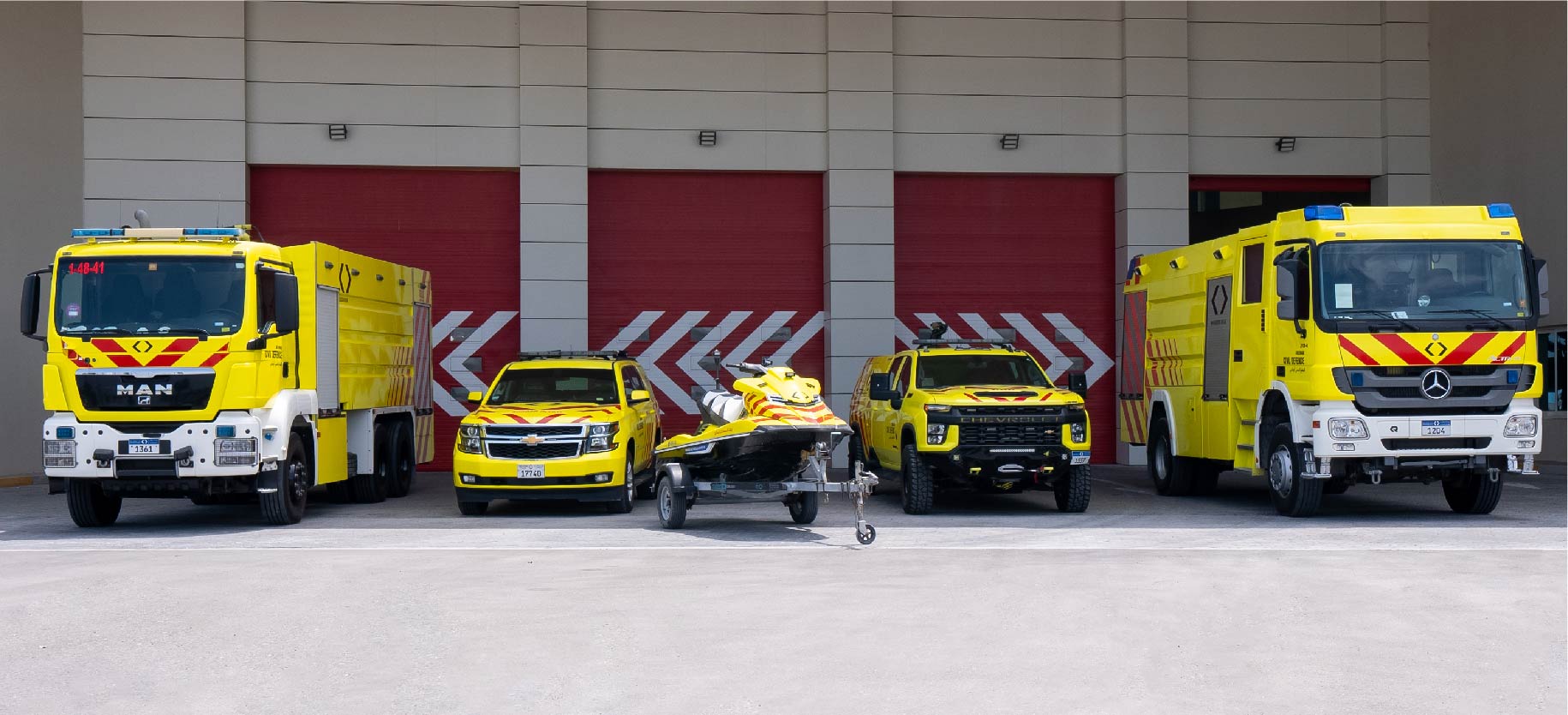 Rescue and fire sector: The rescue and firefighting sector is one of the most prominent organizational sectors in the Abu Dhabi Civil Defense Authority from a human and logistical point of view, as it includes under this sector more than sixty firefighting centers spread throughout the Emirate of Abu Dhabi that focus on fire fighting tasks.
When the law establishing the Abu Dhabi Civil Defense Authority was issued, the rapid intervention centers, rescue departments, the Emirates Search and Rescue team, and the water bodies branches in the Emergency and Safety Directorate of the Abu Dhabi Police General Command joined the civil defense centers in the emirate to form together one sector where the efforts to fight fire and rescue efforts were unified under One umbrella is the rescue and fire department.
The Rescue and Fire Department consists of four geographical departments: the Capital Rescue and Fire Department, the Rescue and Fire Department, the outer regions, the Al Ain Rescue and Fire Department, and the Al Dhafra Rescue and Fire Department.
The departments of the rescue and fire sector have duties and tasks represented in reducing the percentage of deaths and injuries resulting from accidents of various causes, supervising all civil defense centers of the department, and ensuring that they implement the instructions and tasks assigned to them in addition to managing conducting field surveys in the area of competence of civil defense centers and updating them continuously. And to benefit from them in setting and developing civil defense plans, as it has the basic and original competence, which is the rapid response to major accidents and emergencies, and the application of techniques related to rescue and firefighting operations with the aim of effective response.
The rescue and firefighting sector includes the Emirates Search and Rescue Team, which is the team that has received heavy international accreditation from the International Search and Rescue Organization at the United Nations and is licensed to carry out search and rescue missions regionally and internationally, as the team participates continuously in search and rescue missions at the international level and has several international participation. Water bodies rescue branches also contribute to the tasks of responding to all search and rescue operations for water bodies located inland areas such as torrents, floods, and narrow passages through its fleet, which includes a group of inflatable boats and water bikes that help in rescue from water bodies accidents such as drowning and recovering bodies.